Message from the President
Aiming to continue being the company of choice for society.
Representative Director, President Tsutomu Isobe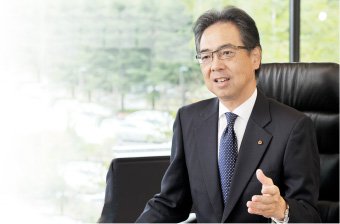 I would like to express my sincere gratitude for your constant, warm support and guidance. For AMADA Group, building this long history was only possible with support from all the stakeholders including the shareholders and investors, and I would like to take this opportunity to offer my deepest appreciation to them.
With a new corporate structure under which management and business operations are unified, the AMADA Group will lead the innovation of manufacturing (monozukuri).
On April 1, 2020, AMADA executed the merger of a subsidiary engaged in the mainstay sheet metal fabrication machine business, the Group's pillar, embarking on a journey as AMADA CO., LTD.
These days, customers are faced with a challenging manufacturing environment, with a serious labor shortage and changes in industrial structure. And it is expected that efforts for work style reform and innovation of production processes will gather pace further going forward. Under these circumstances, AMADA considered it necessary to establish a framework for fulfilling its mission of providing products and services more promptly to anticipate changes in the management climate and meet diverse needs to resolve issues of domestic and overseas customers. We therefore decided to push through with structural reform.
The AMADA Group has established a firm position as a comprehensive manufacturer of metalworking machinery. In order to meet customer needs in a new era, the AMADA Group will shift its emphasis to the development of new processing technologies and techniques with the focus on materials and products generated from materials. The AMADA Group believes that refining application technologies in programs and software for optimizing customers' total production processes will lead to the creation of new value. The AMADA Group will also work on creating business in new fields by applying advanced technologies, such as AI and the IoT, with an eye to the ways of monozukuri in the future. The AMADA Group is committed to continue leading the innovation of monozukuri by practicing "creative and challenging activities" as defined in its management philosophy.
We strive to become a company needed by our customers and the society as we move toward our centenary.
AMADA Group could build up all these years of history only because of the support it received from many shareholders, as well as its focus on enhancing corporate value under its corporate philosophy of "Growing Together with Our Customers." We will continue to strive for sustained growth and optimization of our corporate value by turning the three wheels of "promotion of growth strategy," "Establishment of firm profit structure" and "Efficiency of capital" in a well-balanced manner and taking into consideration the risk posed by the impact of changes in the global external environment.
AMADA Group, looking ahead to its centenary, will propel its growth strategy while actively investing capital, and continue making untiring efforts as a whole group working together. The aim is to keep providing products and solutions worthy of the trust of markets and customers. Please look forward to our future progress, and your continuous support and encouragement would be thoroughly appreciated by us all.