TOGUⅢ
Automatic tool grinding machine
Tools are automatically ground in a clean environment.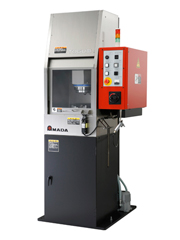 Always sharp tools support high-quality punching.
It is essential to minimize burrs in sheet metal fabrication with higher quality. TOGU developed by AMADA to keep tools always sharp. Tools can be ground, regardless of size and shape, with simple operation.
■ Tools can be ground with simple button operation.

■ The grinding amount is set with a digital switch in 0.01 mm increments.

■ While the grinding wheel is rotating, the door is electromagnetically locked to ensure safety.

■ Sharp punched edges are obtained to improve part quality.

■ Shear-angled punches can be ground by using dedicated jigs.
Specifications
Tool diameter
(mm)

Tool height
(mm)

Maximum grinding amount
(mm)

Standard grinding wheel
(mm)

Power supply

TOGUⅢ

φ1.51~160

chuck jaw height
~150

0.99

CBN φ135

three(3)-phase, 200V
(50/60Hz)
2.5kVA
*For Japan domestic market.
For any inquires, please contact local AMADA branch office.