LS-2612E
New punch/L shear combination machine
《Punching》and《shearing》are combined to expand processing range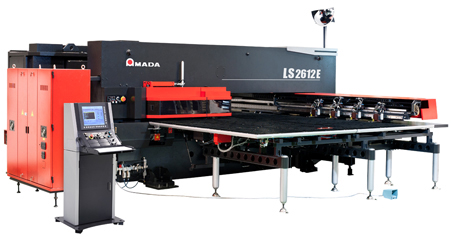 A turret punch press and an L shear are combined into a single machine optimum for producing rectangular parts like panels and sashes.
The turret punch press adopts an AC servo single drive system and achieves high productivity and quality.
The L shear has an AC servo and unloads blanks with high efficiency.
■ Feature(1) : Expansion of processing range

■ Feature(2) : Achievement of high productivity

■ Feature(3) : Achievement of high-quality processing

■ Feature(4) : Improvement in energy conservation and maintainability
Processing scene YouTube movies
Material: SECC / Thickness: 1.0mm
Processing samples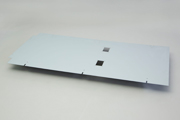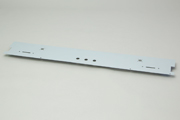 Specifications
Press capacity
(kN)

Maximum processing thickness
(mm)

Axis travel
X×Y
(mm)

Hit rate
(25.4mm pitch/5mm stroke)
(min-1)

Ram stroke count
(Shearing)
(min-1)

LS-2612E

200

SS・Aluminum: 3.5
SUS: 2.0

4250×1525

X: 350×Y: 250

120
*For Japan domestic market.
For any inquires, please contact local AMADA branch office.