ID-TOGU
Auto-grinding machine for ID tool
Skill-less and optimal tool-grinding has been achieved by digital control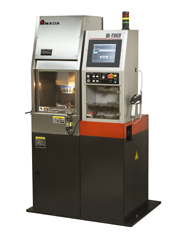 Although tooling maintenance is so important and indispensable element to keep/raise the product quality in sheet metal products, the reality is left to operator's knack or experience to judge the timing and degree for the maintenance.
Every one can achieve the optimal grinding because "ID-TOGU" gets the grinding value automatically from AITS server.
■ Feature(1) : Simple operation and precise grinding

Just reading ID information automates the grind-value setting through AITS server. The grinding starts just by depressing the start-button after setting the tool on the unit.

■ Feature(2) : Sharing tool information without skill after regrinding

And transferring the value to AITS server enables digitally to control the tooling condition and to perform the optimal-punching operation.
*AITS server is required separately
Specifications
Tool diameter
(mm)

Tool height
(mm)

Standard grinding wheel
(mm)

Tool height measuring range
(mm)

Power supply

ID-TOGU

φ1.51〜160

chuck jaw height
〜150

CBN φ135

28~209

three(3)-phase, 200V
(50/60Hz)
2.5kVA
*For Japan domestic market.
For any inquires, please contact local AMADA branch office.