EP Series
New panel bender
Exceeding conventional panel bending range! Next-generation automatic bending machine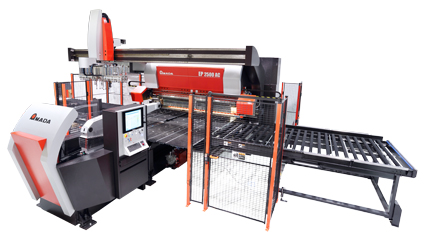 Bending of thin to thick and large blanks.
The conventional panel benders were strongly impacted by the processing range and thickness constraints and were only able to produce limited products despite their high productivity.
With the new EP series of panel benders, the thickness and size processing ranges are expanded and assemblies can be produced. Smooth transfer to the next process is thus ensured.
■ Features(1) : Expansion of panel size range

Expansion of feed bend range, Z-bend range and minimum blank size.

■ Features(2) : Expansion of maximum blank size

A high stiffness body can bend 3.2 mm thick steel blanks.

■ Features(3) : Accommodation of complex shapes

Special bend trajectories can be created freely.

■ Features(4) : Visual programming

Panels can be intuitively programmed while looking at their pictures.
Processing scene YouTube movies
Processing samples
Material : SECC
Thickness : 0.6 mm (top panels, etc.) and 3.2 mm (legs, reinforcements, etc.)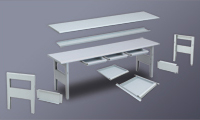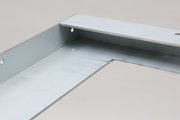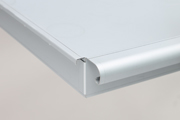 Specifications
Maximum bend length
(mm)

Minimum base dimension (length)
(mm)

Minimum opening dimension (width)
(mm)

Maximum flange height
(mm)

Maximum folding dimension
(mm)

EP-2000

2250

350

160
(120 mm with use of special clamps)

200

55

EP-2500

2650

EP-3000

3350
*This product is for the Japanese market.
For any inquires, please contact local AMADA branch office.