HG Series
High speed & high accuracy press brakes
Hybrid drive system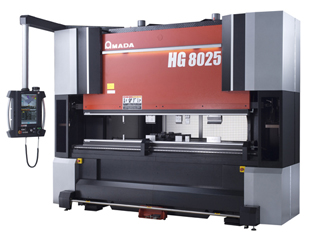 The new user-centered designed AMNC3i unit is installed to achieve ultimate ease of use.
A high rigidity frame and a new hybrid system combine with angle solutions (for elimination of test bends and stabilization of bending accuracy) to obtain high speed and high quality processing.
■ Features(1) : Process intelligence

The screen is designed for intuitive operation like a smartphone screen and allows for fast entry.

■ Features(2) : Enhancement of multi-stage bending efficiency

The modular tooling system is adopted to increase the efficiency of tool setup.
The foot pedal is automatically controlled to allow for the lateral movement of the operator.

■ Features(3) : High speed and high accuracy bending of thin to thick materials

New hybrid drive system and hydraulic crowning system
New backgauge system
Angle sensor
Thickness detection function TDS
Processing scene YouTube movies
Processing samples
Material : SECC
Thickness : 1.6mm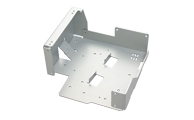 Specifications
Capacity
(kN)

Bending length
(mm)

Stroke length
(mm)

Ram feed rate
(mm/s)

Mass of machine
(kg)

HG-5020

500

2150

250

Approach : 220
Bending : 20
Return : 250

5600

HG-8025

800

2600

7200

HG-1303

1300

3110

11900

HG-2204

2200

4300

20500
*This product is for the Japanese market.
For any inquires, please contact local AMADA branch office.