HG-2204Rh
Bending robot system for bending large parts and heavy parts
Simple operation, and secure, safe and stable bending with a single robot.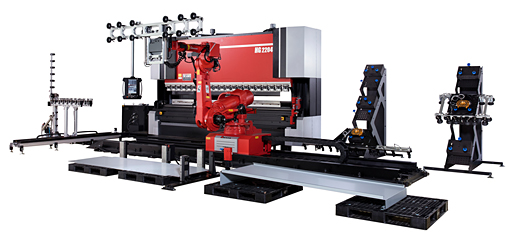 The HG-2204Rh has adopted the high-end press brake HG-2204, equipped with a new hybrid drive system and capable of step bend layout.
Material loading, material handling during bending, and part unloading are all performed by a single 7-axis articulated robot capable of various motions. The HG-2204Rh system can bend large parts and heavy parts without setups and can run for long hours.
■ Features(1) : Simple operation with a single robot

A 7-axis articulated robot (six axes of motion plus one travel axis) is adopted for loading, unloading, positioning and bending workpieces to expand the bending range.

■ Features(2) : Expansion of bending range

The gripper is automatically changed to suit the parts to be bent.
An automatic gripper changer (AGC) that can store up to six types of grippers is installed as standard.

■ Features(3) : Angle sensor

The angle sensor Bi-S is installed to support angle correction during robotic bending.
Processing scene YouTube movies
Processing samples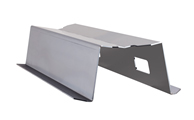 Specifications
Capacity
(kN)

Maximum workpiece size
(mm)

Minimum workpiece size
(mm)

Payload
(kg)

HG-2204Rh

2200

1500×4000

100×1000

165 (with gripper)
*This product is for the Japanese market.
For any inquires, please contact local AMADA branch office.