EG-6013AR
Fully automatic sheet metal bending system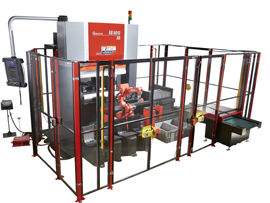 The EG-6013AR uses a high speed, high accuracy servo press brake with the world's first dual servo press (DSP) drive mechanism.
The press brake is combined with a robot optimized for bending small parts with the same speed as human operators. Small parts that involve hazardous operations when handled manually can be thus bent fully automatically.
■ Features(1) : Processing intelligence

The user-oriented design of the new NC unit ensures ease of operation.
Programs are created offline.

■ Features(2) : Dedicated robot optimized for bending

The arm of the robot can go into the press brake to bend such small parts that have been difficult to bend automatically.

■ Features(3) : New servo drive system (DSP) to achieve high speed and high accuracy processing

Maximum tonnage of 600 kN.
Power consumption is reduced 10% as compared with AMADA's conventional high-end press brakes.

■ Features(4) : New gripper capable of tool changing and material handling

The new gripper with both clamp and vacuum pickup functions is used to reduce the required number of robots from two to one.
System simplification and small footprint are thus achieved.
Processing scene YouTube movies
Processing samples
Material : SECC
Thickness : 1.0mm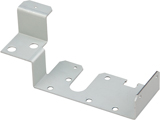 Specifications
Maximum
workpiece size
(mm)

Minimum
workpiece size
(mm)

Maximum
workpiece mass
(kg)

Tool stockers

Number of
loading positions

EG-6013AR

300×300×2.5

40×80×0.5

1.6

10

4
*This product is for the Japanese market.
For any inquires, please contact local AMADA branch office.