LCG-3015AJⅡ
The latest model of AMADA's global standard fiber laser machine LCG-AJ series. High-efficiency fiber laser cutting system that most suitable for processing wide range of material.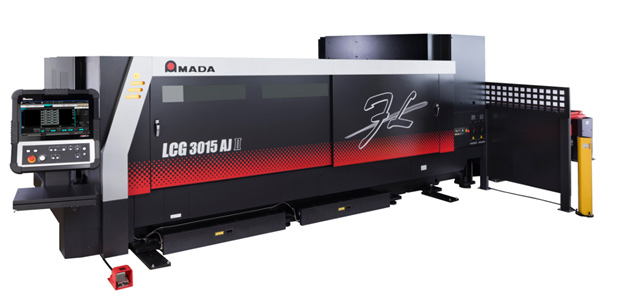 ■ Feature(1) : High-speed processing of thin to medium materials

Processing of various materials without changing focus lenses reduces an operator's burden and cutting defects.
Nozzle changing and alignment is automated.
Various materials and thickness can be processed under automatic operation.

■ Feature(2) : Expanded process range

Process range expansion with high-pressurized assist gas which contributes to high-quality and reduced running cost at the same time.

■ Feature(3) : Deep engraving

High gap Z-axis sensor enables deep marking, allowing parts to be identified after powder coating.

■ Feature(4) : Easy operation

The latest AMNC3i controller is a high-performance NC device that can be operated like a tablet. User can access operation result / processing history.
Processing samples
Material: SUS / Thickness: 1.0mm

Material: SECC / Thickness: 1.2mm

Material: Brass / Thickness: 1mm

Material: SPHC / Thickness: 4.5mm

Specifications
Rapid feed rate(m/min)
X:Y

Rapid feed rate(m/min)
Z

Maximum processing size(mm)
X × Y × Z

Oscillator

LCG-3015AJⅡ

120

80

3070×1550×100

LD pumped fiber laser
(rated output: 3kW)
*For Japan domestic market.
For any inquires, please contact local AMADA branch office.