About Fair
A Message from the Chairman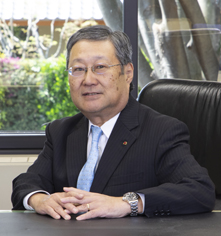 We deeply appreciate having the 32nd Precision Sheet Metal Technology fair with the result of your support kindness, since it has started in 1989 at every year.
The Fair has presented the pinnacle of processing technology adn know-how in the works displayed in order to aid advances in technology and skills and exchange of information within the industry.
It is due to their support that more companies participate each year. Furthermore, nothing could make us happier than to see the remarkable improvement each year.
The Student Participation Division has attracted a large number of excellent entries. This encourages us to have great expectations of the future of sheet metal fabrication.
The Collection of Award-Winners that we have compiled here constitutes a message of craftsmanship.
it is our hope that superior technical processing skills will lead to progress steadily and the further development of the industry.
In holding the fair, we were blessed with tremendous support and favor from various fields. In closing, I would like to express our heartfelt gratitude to the sheet metal working entrants who consented to the display of their valuable products, to the government agencies, the companies and the industry organizations that provided generous backing and to the academic societies that provided their support. We hope we may look forward to continuing support in future.


AMADA SCHOOL of Vocational Training Corporation
Katsuhide Ito Chairman