Application
Guidelines for application
The 32nd Application
Eligibility Requirements
■ Company

As a general rule, the entry product is to be made by a company that engages in precision sheet metal / sheet metal working business, and uses sheet metal workingmachines, both domestic and overseas.
■ Students

Students whom are studying about metal processing at high school, technical college, university or vocational school are applicable to "student fabrication".
*Products created by teachers, professors or trainers will be classified as reference..


When & Where
1. The entries are accepted from
May through October 2019.
2. The entries should be handed to an AMADA employee or sent to the local AMADA office.


Place
AMADA Solution Center situated in AMADA CO., LTD.
200, Ishida, Isehara-shi, Kanagawa 259-1196 Japan


Information
E-Mail sheetmetal-fair@amada.co.jp


How to Enter
1. Entry Form

2. Entry Form (PDF) 
・English » DOWNLOAD (PDF)
・Chinese » DOWNLOAD (PDF)

This application form (PDF) can also download it from a home page and can input directly.
Please fill in the application form send for Secretariat [ sheetmetal-fair@amada.co.jp ] and printed on the back of this page, and send it along with the product.

The following questions have high score points at selection process: "the process you would like to appeal" and "illustrated explanation of fabricating know-how". Please fill them out in detail, with accuracy.
*When the version of Adobe Reader(free) is old, form input and file preservation can't sometimes be done.


Terms for Application
1. The product must symbolize today's sheet metal fabricating technology, and must have been processed by sheet metal working machines.
2. The applicants are responsible for verifying with your client if your product is manufactured for them.
3. If you wish to exhibit the product under the copyrighted material of a third party (character, etc.), patent rights, design rights, trademark rights or other intellectual property rights, you must attach the certification of receiving proper license, consent from the right holder with the product.
4. Please do not mark the part with a company logo.
5. Exhibition category.
The 32nd Precision Sheet Metal Technology Fair applies following 5 category.
Refer to the samples below
1) Sheet metal parts (Single sheet fabrication)
2) Sheet metal assemble parts (Assembly of parts)
3) Welding fabrication (Welding technology & skills)
4) Formative arts fabrication (Idea and impressin of formative arts)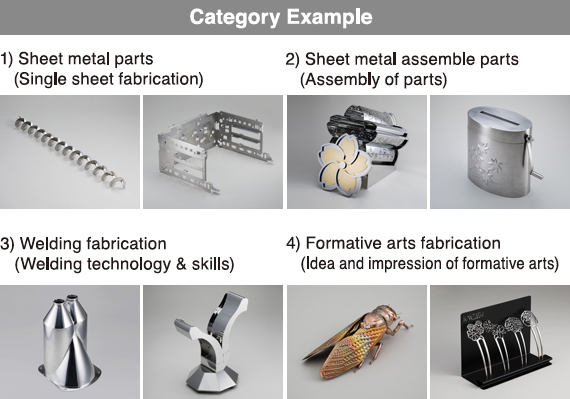 *The Judging Committee may change the above categories.
5) Students' fabrication (Fabricated by students)

6. Work piece size should be within 1,500mm in the total outside dimensions (length+width+height) and must not exceed 600mm in each dimension.
Please contact the Precision Sheet Metal Technology Fair office if your work exceeds this size limit. Points may be deducted if your part is very large.
7. The entered product will not be returned. If you wish the part to be returned, please contact us.
8. The entries will be on display at the Amada Solution Center in Japan from November 2019 through October 2020.
Selection Process
1. All entries will be judged according to the criteria below for each category:
1) Does the entry provide hints or ideas for fabricating technologies/ fabricating know-how?
2) Does the entry use advanced or new technology based on today's sheet metal fabricating technology?
2.The entries will be judged in two phases:
1) Initial Selection
All entries will be exhibited at the AMADA Solution Center from November 2019 through January 2020, to be voted
by the following members:
- Visitors to the AMADA Solution Center
- Members of the Japan Society for Technology of Plasticity
- Board members of Japan Local Sheet Metal Associations
2) Second Selection
The nominated entries from the initial selection (one product per category for each company) will be evaluated by the Judging Committee which is composed of academic experts and sponsors. Each award winner will be determined based on the number of votes acquired.


Announcement of winners
The winners of each award will be announced at a ceremony in March 2020.


Award
《Awards Judged beyond Exhibition Category》

《Awards Judged by Category》

● Minister of Health, Labour and Welfare Award

● Grand prize

● Minister of Economy, Trade and Industry Award

● Technical Award

● Kanagawa Prefectural Governor's Award

● Japan Vocational Ability Development Association Chairman's Award

● The Nikkan Kogyo Shimbun Award

● The Japan Society for Technology of Plasticity President's Award

● Overseas Best Award

● Judging Committee's Special Award

● Amada Award

● Special Award etc.
Privacy policy
1. For the purpose of using personal information
Personal information of applicants to the Fair may be used only for Fair purposes, including placement in printed materials on sponsorship, website posting, announcement of competition results or public relations activities deemed necessary to perform the Fair.
The same applies to award-winning pieces of work. This should be agreed to by applicants in advance.
2. For information of submissions / applying organization
All the information will be widely published in web sites, newspapers, magazines and lectures of seminar, etc.
3. Disclosure of information to third parties
Personal information on applicants is to be used for the above purposes and will not be disclosed to any third party without permission except as may be required by law.
* Others: By entering any part in this competition, the applicants agree to be bound by all conditions of this Fair.