Amada's Health and Productivity Management
Message from the President
Amada has developed as a manufacturing company by practicing "Creativity" and "Challenge," since its founding in 1946, We will continue to fulfill our active role in building a sustainable society while enhancing our corporate value.
To achieve this goal, we are strengthening our ESG management and structure in our medium-term business plan. One of the specific themes is "creating a rewarding workplace." We will engage in health management, regarding the maintenance and improvement of health and vitality of each and every employee as "the foundation for long-term, secure work.
Amada has implemented a variety of measures to create a comfortable working environment where employees are healthy both physically and mentally. For example, in addition to the legally required items, various items such as cancer screening are added to the medical checkups. In collaboration with the Amada Health Insurance Society, we are also working on a collaborative approach in health promotion. In the future, we intend to address issues that need to be resolved with the aim of reducing absenteeism and presenteeism.
Amada has declared as follows that we have positioned "promotion of health management" as an important management issue in order to further develop health and productivity management based on our existing initiatives.
Takaaki Yamanashi
Representative Director, President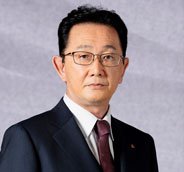 Health and Productivity Management Declaration
In order for Amada to develop and grow sustainably, we believe that it is important to strengthen the foundation for each and every employee to be happy and active, and to be able to work in good physical and mental health over the long term with peace of mind.
Amada declares that we will work to improve the health and vitality of our diverse employees so that they can fully demonstrate their individuality and abilities.
Takaaki Yamanashi
Representative Director, President and CHO
Health Promotion System
The Representative Director, President and Executive Officer will serve as the Chief Health Officer (CHO), and related departments, including the Health and Productivity Management Promotion Committee, will work together to promote health and productivity management.