Packaging / Shipping
We are currently reviewing our product packaging from the angles of waste-reduction and resource-saving. We are also working on improving transportation efficiency from the design phase of product development.
New material for blade guards (Ono Plant)
At our Ono Plant, we have started to apply "biomass guards" for the protection of bandsaw blades. Adding biomass derived from rice bran allows us to reduce the amount of polyethylene used, resulting in a 16.5% reduction of CO2 emissions during manufacturing, molding and Incinteration process.
Improved packaging for tooling(Isehara Works)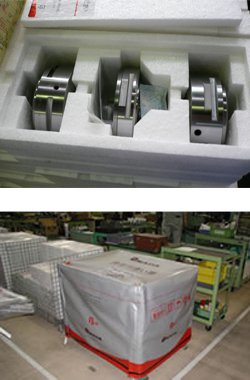 At the tooling factory in Isehara, when delivering a large volume of tools to a customer, we used to pack the tools with oil paper and cardboard boxes, and these materials were discarded after use. Since 2006, we have been using special containers, wire containers and covers for repeated use as returnable containers.
Improved packaging of peripheral equipments(Fukushima Plant)
AMADA also offers line systems, which combine machines and peripheral equipment such as material feeders, take out loaders, shelves for stacking the finished parts, and computer terminals for data input.
Line systems have many component, so we used to waste a large amount of packaging material. In order to completely eliminate such packaging waste, we created special racks and containers that can be used repeatedly for each type of peripheral equipment.
These racks and containers have the Reuse Mark on them, and have been in use since 2007.
We have also improved the packaging for peripheral equipment (ASF-3015F1) of laser LC-F1NT series by using returnable jig for all-in-one packaging; successfully reducing the packaging time, unpacking time at customers', and improving the transportation efficiency as well.
Improved shipment efficiency and reduced packaging material for peripheral equipments(Fukushima Plant)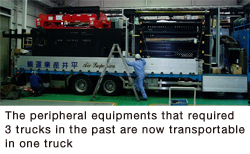 Many packaging materials are used when delivering the peripheral equipments necessary for building automated system lines. Also, the delivery of large sized peripheral equipment may require multiple trucks, increasing the CO2 emission. This is why AMADA is seeking to improve the transportation efficiency and reduce the packaging materials.
AS-C1, the peripheral equipment for the LC-C1NT series, has incorporated many creative ideas from the design phase to achieve transportation efficiency, and succeeded in reducing packaging materials since 2010.