Service
During the use (service) phase, the AMADA Parts Center and IT service vehicles equipped with a computer system that processes vast service data is taking an active part. In addition to delivering parts to customers promptly and unfailingly, we make efforts to "avoid delivering waste to our customers".
AMADA Parts Center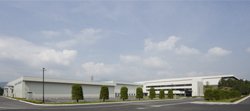 The Parts Center was established in Fujinomiya Works as a logistics base for supplying the maintenance parts to our customers "faster", "with reliability", and "with better service", and started its operation in October 2009.
Here we have adopted innovative ideas of limiting the exposure to open air to a minimum, and energy-saving equipments, and as a result reduced the environmental load to half of our old service center.
IT Service Vehicles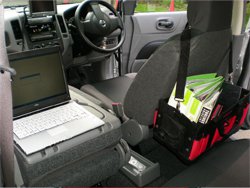 Since the start of Parts Center operation, we have introduced IT service vehicles with IT devices such as mobile computers and printers, and Amada's special package tools on board. This contributed in enhancing the parts supply capacity, while improving the work efficiency of the 300 service engineers, thus saving time in solving customers' issues.
Using returnable containers for maintenance circuit board shipping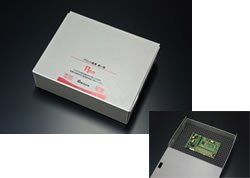 Before, the maintenance print circuit boards were delivered to the customer in cardboard boxes. Since the opening of the Parts Center, a stronger box has been introduced as a returnable containers, reducing the waste volume.
This returnable containers is marked with Amada's "Reuse" logo with built-in IC tag, and can be located inside the Parts Center.
Spring bags for waste disposal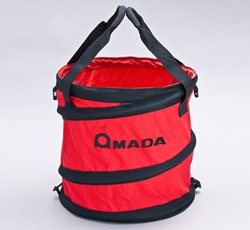 We promote the use of returnable boxes at the time of delivery, but we can't eliminate the packaging material to zero for quality assurance reasons. In order not to leave any packaging material at our customers' facilities, our 300 service engineers throughout Japan carry spring bags (container for waste material) with them.