Planning, Development and Procurement
During the planning & development stages of AMADA Eco Products, we set clear targets for the product's environmental-friendliness to produce products with the industry's top-class environmental performance, by assessing them at each phase of development.
Environmental assessment of products
| | |
| --- | --- |
| No.1 | Energy-saving during product use |
| No.2 | Emvironmental impact of product use |
| No.3 | Energy-saving during manufacturing |
| No.4 | Hazardous chemical control |
| No.5 | Resource-saving |
| No.6 | Simplified separation/ sorting,/ recycling process |
| No.7 | Streamlined transportation/ packaging |
| No.8 | Providing information |
The objective of environmental assessment is to avoid releasing products with a large environmental load, and to achieve this, the product's sustainability throughout its entire lifecycle is assessed using eight broad categories.
These environmental assessments are conducted during the Design Reviews performed at each development step, and the product development can move on to the next level only by passing the standard. AMADA has been implementing this environmental assessment system since 1998.
Green Procurement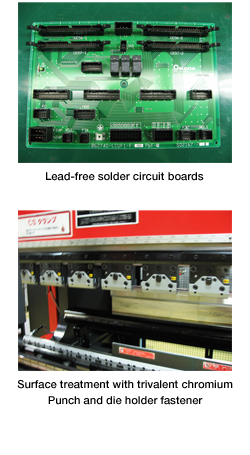 AMADA position "green procurement", procuring materials with low environmental load, as one of our important environment conservation activities.
Our products are not subject to the RoHS directives enforced since Jul. 2006, but we promote the non-use of RoHS regulated substances due to the fact that the regulated substances may come in contact with our customers' products that are made with AMADA machines.
AMADA Group Green Procurement Guidelines
AMADA Group
Green Procurement Guidelines
550KB
AMADA Group
List of Regulated Chemical Substances
1.8MB
A Survey for "Green Procurement" Partners    
157KB
*RoHS directive: The European derived initiative in which the elimination of certain hazardous substances in electrical and electronic equipment is the key objective
AMADA Group Green Procurement Guidelines
AMADA Group
Green Procurement Guidelines
340KB
Green Procurement business partners & procurement items surveys
"Form 1", "Form 2 (2) a"
108KB
Appendix (1)
List of Controlled Chemical Substances
68KB
Appendix (2)
Details of Controlled Chemical Substances
124KB
*RoHS directive: The European derived initiative in which the elimination of certain hazardous substances in electrical and electronic equipment is the key objective