Activities Abroad
AMADA Group provides training to all employees to raise awareness for environmental preservation.
Company visits, Internship Programs
AMADA EUROPE S.A.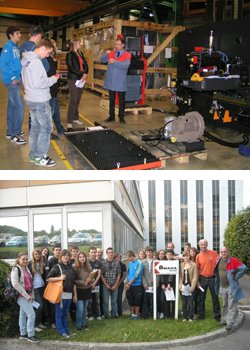 Based on agreements with local high schools and universities, AMADA Europe S.A. regularly welcomes students to visit its factory, and provides experiences of real work situations. These visits give them the opportunity to observe the work content of each process. By introducing the skills needed for these processes, students can optimize their awareness of which jobs most suit their carrier perspectives.
AMADA Europe S.A. hosts professional training for unemployed adults and students of local technical high schools.
Technical training sessions hosted by AMADA Europe to address the needs of local companies, help to optimize trainees efforts to find new employments and to determine their professional course : a step forward in the direction of local industries development. These activities were reported by local newspaper articles.
Program for interns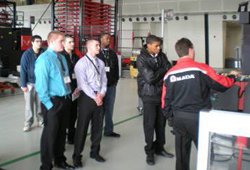 AMADA America offers training courses as a cooperate initiative with professional training programs held in Northern Illinois. In 2012, the company welcomed 10 manufacturing interns as part of this Work Force Program. Interns took part in the design, programming, and production of a sheet metal part.
Internship Students welcomed at AMADA UNITED KINGDOM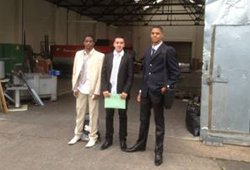 AMADA UK organized professional training for internship students.
In July, several school students spent a week at AMADA gaining work experience, and three French apprentices joined the group for 3 weeks in October.
A student with severe Asperger's syndrome spent a week at AMADA on Work experience.
Staff took special Care to ensure the placement fitted with his special needs.
Hosting and Participating in Local Events
AMADA NORTH AMERICA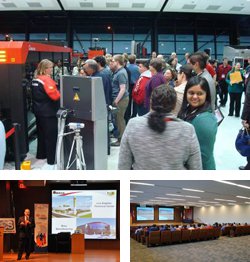 At the Manufacturing Internship Recognition Event hosted by AMADA North America, and attended by a large number of interns as well as manufacturers and local city officials, all participants could see our machines in demonstration.
AMADA North America took the initiative of organizing Schaumburg Business Council Conference, and explained why Schaumburg was such an attractive venue for AMADA.
AMADA TOOL AMERICA
In May, AMADA TOOL AMERICA participated in an open house at a vocational school. Students observed and interacted with sample parts.
AMADA UNITED KINGDOM
Following the 2011 initiative, AMADA UK offered support by providing machines and technical support to the UK Skills Championship held in 2012.The machines provided were the Laser Machine and the bending machine.
There were also service engineers on site to offer technical advice to the young skilled workers.
AMADA SOFT INDIA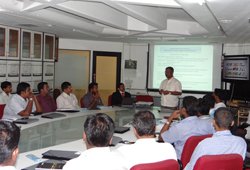 The Institute of Technology of Madras hosted sheet metal processing lectures which were attended by engineers, management staff and students.
After classroom lectures, participants were invited to operate the machines in Demonstration areas and experience the processing of sheet Metal.
Family meetings
AMADA TOOL AMERICA
The company sponsored a family picnic at a local amusement park. It was attended by 95 employees and their family members.
The 95 attending employees and their family members spent a very enjoyable time.
AMADA OUTILLAGE
Organization of a site visit at AMADA OUTILLAGE for staff family, attended by 120 participants.
During this visit, various machinery and manufactured products were presented.
AMADA INTERNATIONAL INDUSTRY & TRADING(SHANGHAI)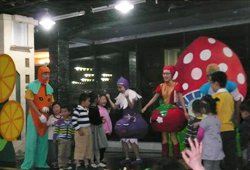 In May, staff and their families took a bus ride to an amusement park to enjoy an attraction show organized by the company.
The children enjoyed the show, and the families became more deeply acquainted with each other.
Charity Activities and Donations
AMADA UNITED KINGDOM
Conducted a toy drive at Christmas time. Employees donated about 75 new toys for underprivileged children.
Welfare organizations distributed the donation to families in deprived areas.
AMADA TOOL AMERICA
AMADA UK employees raised £1,250 in one year for Cancer Treatment Support Organization.
AMADA INDIA
A punching machine AE-255NT and a bending machine RGM2-3512, together with an AP100 automatic software were donated to the Jaba-lpur Indian Institute of Information Technology.