Medium-term Management Plan
Target values
We drew up our medium-term management plan "TASK 3·2·1", starting in FY2016.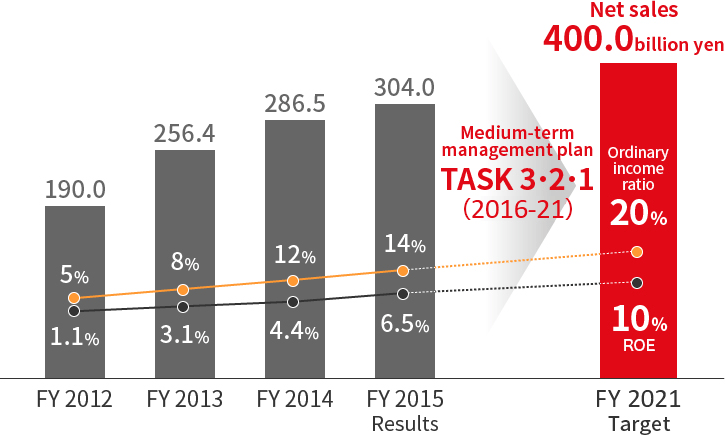 We launched our medium-term management plan called "TASK 3·2·1" at the start of FY2016. The target values for the final year of the plan, FY2021, are around a 30% increase in net sales to 400 billion yen from FY2015, ordinary income of 80 billion yen or 20% of net sales, and ROE of 10%.
Growth strategy
We aim to achieve 400 billion yen in net sales by propelling the business and the regional strategies.
Business strategy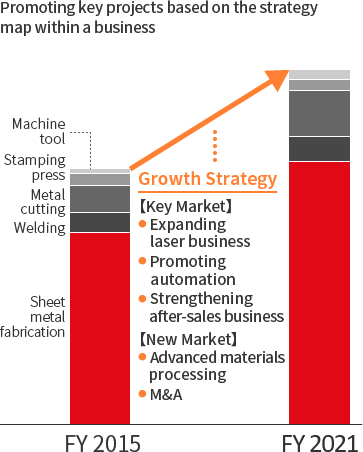 Regional strategy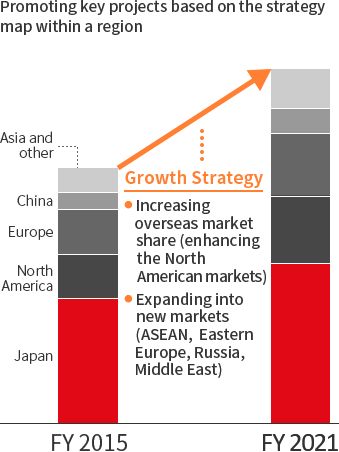 In the growth strategy, we will strive to exceed the market growth rate with our business strategy that primarily concentrates on providing differentiated products and services, and our regional strategy that focuses on increasing our overseas market share, as its two pillars.
In the business strategy, we are putting a great deal of effort into the laser business including expanding a product line of fiber lasers, among other things. The next areas of focus are the automation business that contributes to customers' product innovation by providing products combined with robotics and suggestions to bring about automated production lines, even involving competitors' products, and the after-sales business including strengthening the tooling supply systems, improving the maintenance quality using IoT and offering preventive maintenance. Furthermore, we will work on processing advanced materials at the same time as carrying out enterprising M&A activities to expand into new markets.
As for the regional strategy, the focus is to increase our market share by promoting local production of primarily laser-related products to meet customers' needs in the North American markets, where manufacturing (monozukuri) is becoming more and more sophisticated. In emerging countries including ASEAN, Eastern Europe, Russia and the Middle East, where a demand increase can be expected in the future on the back of enhanced infrastructure and improving export competitiveness, the aim is to develop new markets through setting up local subsidiaries and technical centers.
We will carefully follow the above growth strategy and strive to achieve net sales of 400 billion yen. We will also actively invest our capital into research and development, and facilities necessary for the progress of the growth strategy.
Establishment of firm profit structure
We will drive forward with reform of monozukuri, in which development and manufacturing work together, and provide engineering proposals to our customers.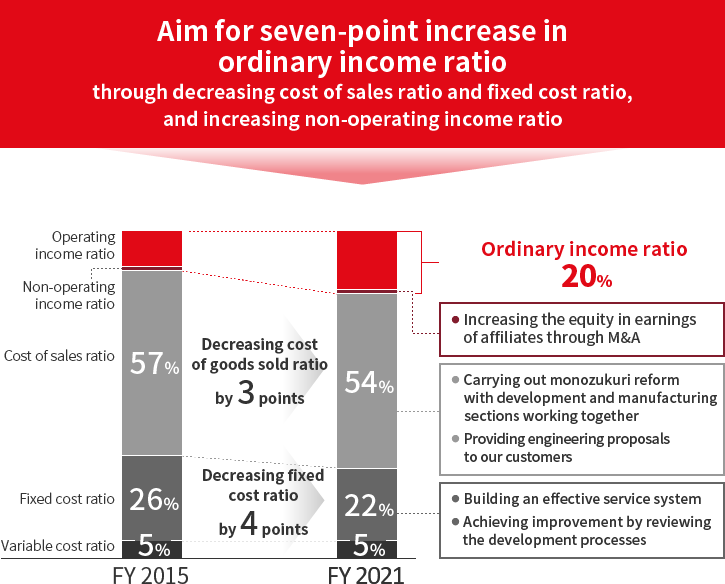 In particular, each of the development, manufacturing and procurement sections will work together and be involved in designs covering steps from the development stage to maintenance after delivering products. The aim is to achieve a reduction in manufacturing costs, improve quality and shorten lead times at the same time. Such effort should lead to building a structure that allows us to provide high-quality products with cost competitiveness in a timely manner and meet the sophisticated demands of customers.
At the same time, we will carry our business activities in a way that enhances added value, so as not to easily become involved in simple cost competition. We will do thus by offering engineering proposals that address the issues our customers have in relation to monozukuri and lead to their solutions with proposals for processing technologies provided at our solution centers and technical centers, located globally.
We will also promote before-sales services with remote maintenance using IoT as well as big data analysis and strive to streamline and level person-hours in services to build an effective service system, while seeking to reduce fixed costs by reviewing development processes together with the companies involved.
Capital policy
We will keep our high dividend payout ratio, while implementing flexible share buybacks.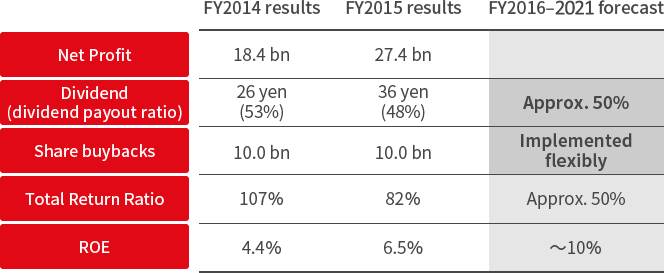 We have been concentrating on returning profits to our shareholders without allocating funds to internal reserves and achieved a 100% return to shareholders for two years since FY2014. We will aim to keep stable dividend payments with a dividend payout ratio of around 50% from FY2016 onwards, and acquire our own shares in a flexible manner at the same time.